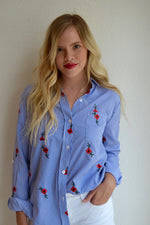 The Fourth of July is right around the corner, and I want to share two looks that will show off your patriotic spirit while staying comfortable and chic. Whether you'll be spending the day relaxing with friends at a BBQ, or celebrating downtown with live music and a carnival, you can still stand out in a crowd of America's colors without having to wrap yourself in a flag…although, that is totally acceptable on such a holiday. 
The first look is my favorite because it's simple, but also extremely stylish and versatile. I always love buying pieces that can be worn together or separated for entirely different looks. This button up poppy shirt and white denim shorts are no exception, and I know I'll get plenty of wear out of both pieces throughout the summer. Level 99 has exceeded all expectations of denim shorts, including this white pair, and you can't go wrong with a button up. Just role up the sleeves, tie the hem at your waist and voila!
Tassel Statement Earrings $24
Now for those of you who are looking for something a little more elegant AND fierce at the same time…queue fire emoji…this red dress is beautiful. Beau-ti-ful. Because I know this holiday tends to get pretty busy and tiring, I wanted to share only looks that are easy to wear and have lasting comfort. Throw on your favorite pair of sandals with this red number, and you're ready for the parade and all five cookouts you promised you'd make it to.
It doesn't matter if you prefer a more casual outfit like me, or if you're wanting to take it up a notch, we can help you find the perfect Fourth of July worthy outfit here at Two Eighteen. Most importantly, I hope you have an amazing holiday weekend celebrating our country with your favorite people. Wear a cute outfit and let freedom ring.
xo,
Sav
More looks to love: